Upper East Side Real Estate Market
The Upper East Side is full of attractions and upscale residences, and is known as a safe area. These characteristics are part of what makes it such a desirable place to live, and helps explains the high prices of real estate in the Upper East Side.
Home Prices
The median price for homes listed on the Upper East Side is $1.4 million. The median price for homes sold is $1.2 million.
Recent sale highlights include:
A small 1 bedroom, 1 bath home sold for $743,000
A large 20-bedroom, 24 bath home (34,760 sq. ft.) sold for $25,000,000
A 9-bedroom, 10 bath home (15,000 sq. ft.) sold for $80,000,000
A 3-bedroom, 3 bath home that sold quickly for $8,000,000
A Buyer's Market
Currently, most regions in the United States are experiencing a seller's market. However, the Upper East Side is seeing a buyer's market. This means there are more homes on the market than interested buyers. In other words, there is more supply than demand.
When a buyers' market occurs, sellers become more motivated and may lower prices in order to make a sale happen. Buyers can take advantage by getting a home that will appreciate in value and make a great investment.
The buyers' market is evident in that listing price median is $1.4 million while the purchase price median is $1.2 million. However, homes in the area are still being sold for approximately the asking price so a deep discount is not likely.
Homes on the Upper East Side are currently staying on the market for an average of 177 days. The trend for median days on the market has been going up slightly from month to month.
In an apparent conflict with the buyers' market theory, home prices are also increasing. They have been trending up by 3.6% year over year.  This underscores the overall sound approach to real estate purchases: do not attempt to time the market, if you are looking for a place to live, focus on that fact, and let everything else fall into place.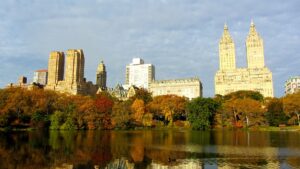 Upper East Side Home Prices Still Lower Than Pre-Pandemic
Although Upper East Side home prices are on the rise, they are still lower than they were before the pandemic. Studies show that asking rents are nearly $400 less than they were two years ago while home prices are $300,000 lower.
Other New York neighborhoods that are still seeing home prices lower than pre-pandemic rates include Greenwich Village, the Upper West Side, Little Italy, Gramercy Park and West Harlem. Up and coming neighborhoods like Long Island City, Queens and Greenpoint, Brooklyn have surpassed their 2019 rent prices.
The Upper East Side is a great place to live, and whether it is a buyers or sellers' market, if you have the chance to live there, take it. If you have the chance to turn a profit on a sale, and desire to find another property to live in, take the gains, and move forward.
For help with this, call Upper East Side Manhattan Real Estate Broker Michael D. Rehm at (646) 895-2945.